Last year I finished my 25th year as a teacher — all 25 in the same high school. It feels like a landmark and brings with it no small amount of reflection over what I have learned as a career educator. In my early years of teaching, I was not very savvy about the politics of public education. But in my two and a half decades in education, I have learned how to work within the system to support students and families, how to fight for them and give them the tools to fight for themselves. I know how to help students get the academic help they need, how to help them apply to college, how to assist them in identifying scholarships and securing funding, and I can even help them to advocate for their mental health needs. Beyond advocating for students, 25 years in, I know how to advocate for our department as we present our needs to the administration, and, from my involvement in our professional association, I've even learned to advocate for our teachers as a bargaining group and for individual teachers in contract matters.
Still, the last few years have proved challenging. The political landscape for teachers has not been friendly, especially in my state. So, I took up political and legislative advocacy — calling my representatives, joining political action groups in my community, and attending town hall meetings. But, quite frankly, this advocacy work has been frustrating. It's very hard to feel that my voice matters or that anyone is listening on a state or national level. I know I am not alone in feeling this way, and one bright spot of the political advocacy groups I've joined is the connection with other like-minded citizens.
It was the combination of my frustration with my own advocacy efforts and my feeling of isolation in that work that led me to search for opportunities to grow as an advocate. I decided I wanted to learn to advocate more effectively for the things that matter in education and, in particular, for the effective teaching of reading and writing. Luckily for me, just as I was ready to hear the message, NWP Radio aired an episode called "NWP Social Practices Part 1 of 6: Advocacy" — clearly, this was a nudge from the universe!
In the NWP episode, Cathy Fleischer, Professor at Eastern Michigan University and Co-Director of the Eastern Michigan Writing Project, described everyday advocacy in this way:
When we talk about everyday advocacy what we mean by it is that we believe that teachers can change the public narrative around public education…A lot of people want to make change at a national level but when you think about everyday advocacy, you think, what do we do first at our local level? And it also involves finding a way to make this [advocacy] a part of our day-to-day lives ("NWP Social Practices Part 1 of 6: Advocacy").
Cathy also described the three-day workshop she has built for teachers. The Everyday Advocacy Workshop — which is now in its fourth year — helps teachers to understand what everyday advocacy means, to frame an idea for advocacy on a local level, and to design an approach that is "smart, safe, savvy, and sustainable" (Fleischer, https://everydayadvocacy.org).  This was the workshop I needed.
This year's Everyday Advocacy workshop took place in June on the campus of Eastern Michigan University. In identifying topics for advocacy ahead of time, I had in mind big issues in education, such as tackling a system of teacher evaluation that has crippled teachers and administrators, or speaking out on the failure of the reform movement to include educators, or fighting for teachers to be recognized as the professionals they are. During the workshop, though, one of my first significant takeaways was that I should consider advocacy projects that start locally and can be sustained each day. My big "take-on-the-world" topics were not ideal for everyday advocacy. This was only the first of several key takeaways that will change the way I advocate for students, families, teachers, and the profession.
Here are three significant lessons I learned in the Everyday Advocacy Workshop: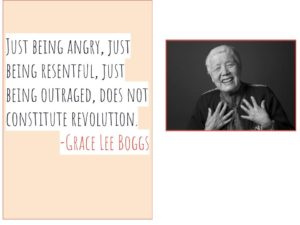 Optimism is essential in advocacy work. On the first day of the workshop, Cathy shared two quotes with us to remind us that advocates operate on hope. No change can happen if those advocating for it don't believe that things can get better. As teachers recognize, it can be a challenge to maintain a stance of optimism under trying circumstances — and it certainly feels like the education realm is full of struggles at this point in history. It's exactly at these moments, though, that we need effortful optimism.
Advocacy begins with storytelling. In advance of the institute, Cathy invited us to read works on advocacy including Marshall Ganz's "Public Narrative, Collective Action, and Power" in which he emphasizes how the "Public Narrative: Story of Self—Story of Us—Story of Now" can influence change. Ganz reinforces the importance of optimism in leading change: "Participating in a social action not only often involves a rearticulating of one's story of self, us, and now, but also marks an entry into a world of uncertainty so daunting that access to sources of hope is essential" (282). We have all heard various narratives about education, but one of our goals as educators must be to own the narrative of what it is to teach and learn today.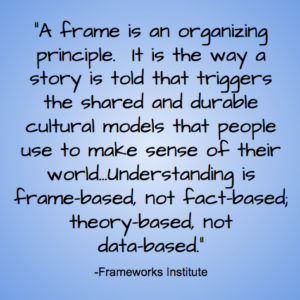 It's all in how you frame it. One glance at the conversation surrounding the media these days will demonstrate the power of framing an issue. The Everyday Advocacy Workshop helped me to understand how to frame an issue more deliberately and intentionally. Cathy introduced us to the Frameworks Institute, a nonprofit organization that "designs, conducts, and publishes multi-method, multi-disciplinary communications research to empirically identify the most effective ways of reframing social and scientific topics." The Institute's powerful tutorial on Strategic Frame Analysis teaches leaders to recognize the ways in which we can frame our story to appeal to our audience.
Seeing my own advocacy work from these three perspectives helped me to build an idea for everyday advocacy that fit Cathy's criteria of "smart, safe, savvy, and sustainable." Cathy led us through the process of crafting an action plan by identifying our audiences, building a proactive strategy statement, and establishing achievable goals. I returned to the area I am still most passionate about — even after 25 years as an English teacher — reading and writing.
Instead of my initial broad ideas for advocacy, I developed a strategy statement for an advocacy project that I can start locally: Because students deserve to have authentic reading and writing experiences, we need to help teachers, administrators, students, and parents understand what works for growing real readers and writers.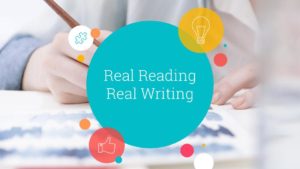 In considering tactics (the specific steps I'll take) for my action plan, I looked at the four audiences for my message and determined what their initial stance or frame was likely to be toward the phrase: "what works for growing real readers and writers." Were members of each audience likely to be allies, opponents, or undecided? I could tell I had the right frame when I concluded that members of each audience would be allies or potential allies in advocating for what works. After all, what student doesn't want to do reading and writing that feels relevant? What parent doesn't want his or her child to develop into someone who can read and write for real world purposes? What English teacher doesn't want to do what works so that students are ready for the next step? And what administrator doesn't want to see students engaged in their learning when they walk through a classroom? This doesn't mean that I won't encounter resistance as I launch my project, but I am hoping my lesson in effortful optimism will come in handy in allowing me to frame messages in ways that will appeal to specific audiences. Armed with the everyday advocacy tools for framing, telling a story, and maintaining an optimistic outlook, I am encouraged in my advocacy work again and look forward to celebrating small changes on a local level.
To see the draft of my action plan and timeline, click here.
To explore resources for creating everyday advocacy projects around literacy education in your local community, check out Cathy Fleischer's Everyday Advocacy website at https://everydayadvocacy.org.