A look at apps and extensions that help power our Google Apps for Education paperless classroom
This is the first in a five-part series about favorite apps and extensions for Google Chrome and Google Drive.
I have been using Google Drive for four years now to power our paperless classroom.  In previous posts, I talked about how the comment tools in Google have improved student writing and thinking, and about how I have used Doctopus to manage a paperless classroom.  This post features add-ons, extensions, and apps for Google that have enhanced writing, digital creation, research, and feedback in my classes.  
In experimenting with our paperless classroom, my students and I have tried out a great many tools with mixed results.  Initially, I liked every app and extension I saw and filled up my Chrome browser and Google Drive accordingly, but in the process of testing apps and extensions with students, I have better defined my criteria for a useful tool.  By my definition, to be useful for students, an app or extension must enhance their learning, as opposed to simply completing a task for them.  To be useful for me as a teacher, an app or extension must truly enhance my instruction, not simply add bells and whistles.  And for all of us, the app or extension has to work seamlessly.  Here are the apps and extensions we've found most useful arranged by purpose.  Incidentally, we only used apps and extensions that were free or that had free versions at the time.  This may have changed since our testing of them.  
Three tools to help you keep your sanity as you add apps and extensions to Chrome
In this first post, I won't even talk about the power of apps and extensions to transform reading and writing – though it is the most exciting aspect. Instead, let's talk about staying sane as you start to try out new tools.  When you decide to start adding more apps and extensions to Google Chrome, your toolbar can become overwhelming. Below are the four apps and extensions that help me manage my browser and Drive. If you are just getting started with Google Apps for Education, start by installing these. I use them every day.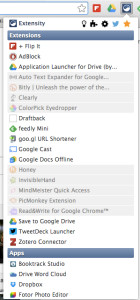 Extensity is a free extension that manages extensions. How's that for a mouthful? Once you start loading more extensions, you will want to turn some on or off more regularly. Extensity does that for you with one click to save you from having to go to Settings or More Tools, and then to Extensions, and then to the precise extension you wish to enable or disable. Once it is installed, you can go wild with downloading as many extensions as you wish to try. The image to the left shows extensity in action.
---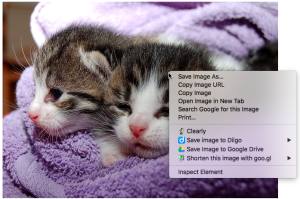 Save to Google Drive is an essential tool for me and for my students. This extension will save images or pdf files or even whole web pages to Google Drive.  Once installed and approved, right clicking on an image will offer an option to Save Image to Google Drive or a button in the toolbar will do the same.  I have used Save to Google Drive to capture PDF files of teaching units or resources that others have made freely available online. I have used it to grab images from Pixabay or Wikimedia Commons for use in blog posts. I have even, on occasion, captured whole websites with Save to Google Drive in order to read them later offline.  This is a simple tool, but one you need to install if you want to make Drive your go-to storage space.
---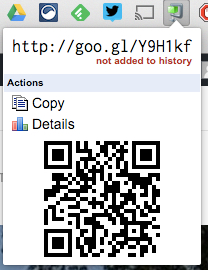 When I first installed the Goo.gl URL Shortener and QR Code Generator, I didn't really think that I would use it that much. I already had a bitly account for shortening and personalizing links, but the goo.gl shortener is very handy. With a click I can shorten the link to any site I can open, including items from my Google Drive. I use it during Twitter chats to share links with my PLC and in class to send my students to sites. I love using the QR Code Generator to post links for my students to scan in the room and incorporate novelty into activities we are doing in class.
In part 2 of this series, we'll look at favorite apps and extensions to help writers be better writers.
Can't get enough Google apps, add-ons and extensions?  There have been a number of posts in the last several months about the best apps and extensions for Google Chrome.  Google Guru came out with 10 Chrome Extensions That Will Make Your Life Easier, PC Mag wrote The Best Free Google Chrome Extensions, and TeachThought released 50 Of The Best Google Chrome Extensions For Teachers.  Check them out and add to your Chrome collection!